Entrepreneur Explorer Mentor Mother Daughter Friend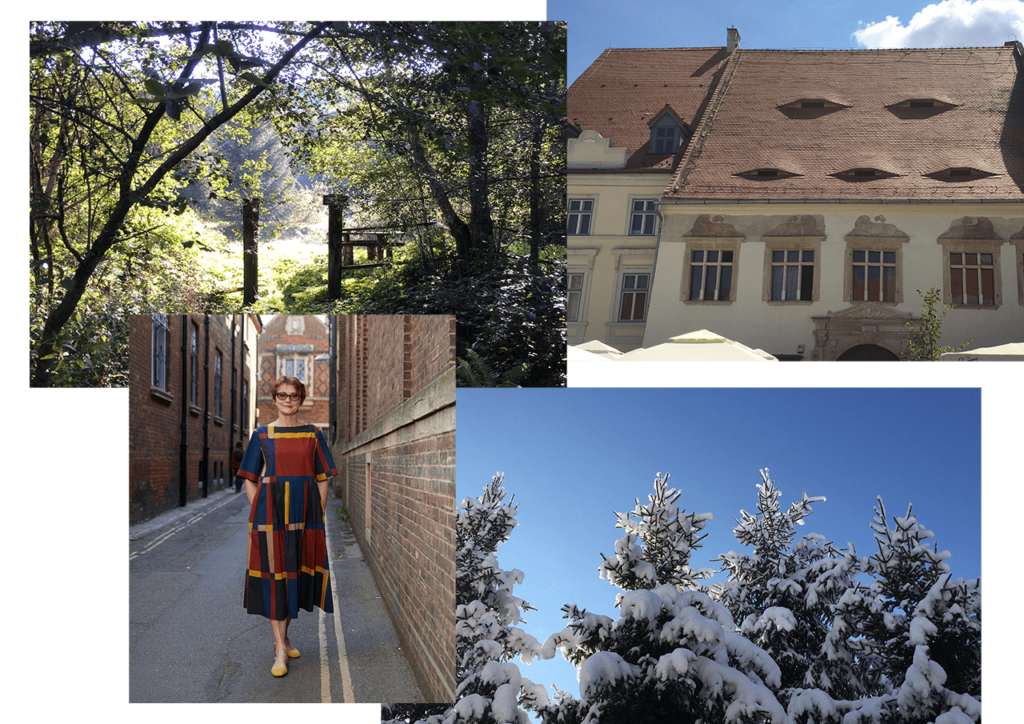 Change is hard, necessary and, in the end, unavoidable.
Even longed-for changes can be challenging. Standing on a threshold, it's tempting to freeze or flee. How can we face our fears, gather our courage, and confidently step forward?
I spent my teens in Transylvania training to be a ballerina. I loved the artistry, expression and storytelling. The National School of Classical Ballet visited me twice. But the dream was not to be.
Fast forward ten years. I was shaping minds as a teacher in a prestigious college in medieval Sibiu, then the first Clare Hall East European studying at Cambridge Judge Business School and an emerging tech entrepreneur with a business on the Cambridge Science Park. I found myself catching the midnight train in a country still emerging from the legacy of central control, a young woman arriving at dawn to sell the latest digital thinking to deeply cautious officials who'd barely used a computer.
But an understanding that began in ballet had matured in business. Throughout my different life experiences, I learnt the secret alchemy of image – its power to influence how you feel about yourself and how others see you. That morning, as I paired burgundy pumps with a navy dress and sharp-collared jacket, I felt my confidence rise.
My determination paid off, and the business flourished. I always loved my charismatic business wardrobe, and I still do, but I was mainly dressed for the airport or the boardroom. Passionate about connecting people, data and technology, I was driving change fast. All this while, I was also a wife and mother of two. In challenging times and through a few recessions, it was my drive for relentless innovation and care for those around me which kept me going.
What remained constant throughout was my presence: my curiosity and belief in 'learning by doing' with a strong sense of aesthetics, which nourishes the heart and mind. I always had an eye on quality, playing my role in the environment and respect all around.
I am now helping others embrace change – and digital transformation is only part of the story!
I've always understood that carefully positioning my image has been an active ingredient in my success and well-being. And so, as I hit my stride as an enabler and mentor in the new 'Industry 4.0', I have added world-class training from reputed leaders in the areas of Image, Style and Sustainability. This has refreshed what I'd practised for 30 years regarding leadership, change and image management.
Today, I draw on all my experience – the struggles and achievements, the changes I chose and those I did not – to help women recognise their stage in life and confidently use their image and presence to write their next chapter . . . mindfully, stylishly, and digitally.
Daniela, founder of Image Ability
My mission – Feel good, look great, do well
I help women transform their image and leadership style to achieve their goals, and have a confident, healthy and fun relationship with what they wear. Whatever your starting point, my signature approach is straightforward, eye-opening and rewarding.
1
How you look and dress tells the world how you view life.
Your image is a powerful symbol, to others and to you. There's truth in the old adage 'Dress for the job you want, not the one you have'.
2
Fast fashion is dissatisfying for you and bad for the planet.
Slow fashion – buying less, making better choices and living sustainably – is always more fulfilling. The most sustainable piece is the one you already have.
3
Colour transforms how you feel and look.
Learn how to play with colour to suit your skin tone, mood and priorities. Break rules, experiment, enjoy. Experience the impact.
4
Digital tools and data can make life easier.
I have created online programmes and resources, including Image Mirror, a digital wardrobe to include details of every item in your collection, and develop new habits.
5
A Growth Mindset creates optimism.
Our character and ability aren't fixed. We create the conditions for success when we learn to see the opportunity in every situation. The essence of my mentoring and executive coaching program is supporting you to manage change and growth.
6
Clothes aren't just stuff, they're stories.
Remember 'dressing up' as a child? Even now, items bring back decades-old memories. Your wardrobe should be a source of joy. With my mentoring and in our membership space I'll help you re-frame habits and play more with what feels good wearing – and realise your goals.
"Thank you, this was all I needed to re-wire. I felt I did it for myself – and now I am applying what I learned with ease. Knowing myself, I am amazed that I am keeping at it!"
"I have found this so relevant for my current struggle with change.  It really has empowered me!"
"This was extraordinary! I convinced myself to say 'yes' to things I would normally shy away from. You have impressed and moved me with your wonderful work which seems to be talking to me directly."
"Mentorship suits you as a glove. You have the experience to help others explore and dare to explore their own re-invention".

Elena, Senior Director